About Me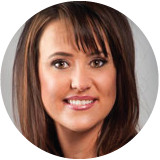 Caelie Steele
Visual Designer
Caelie Steele is a skilled, licensed esthetician and makeup artist with years of experience and many credentials to her name. Her quest to obtain a healthy, beautiful
complexion combined with her desire to teach others how to promote and maintain healthy skin led her to the field of esthetics.
She began her education at California State University, Chico where she received her Bachelor's Degree in Health Science. Along with her degree, she earned her certificate in Advanced Medical Esthetics, and she is also a Certified Medical Assistant. This extensive training and academic foundation helps her to meet the various dermatological needs of her clientele.
Caelie has worked in esthetics in Sonoma County since 2001. In 2004, she tapped into the affluent wedding industry and has since done hair and make-up for brides and bridal parties, thus expanding her talents and business throughout the Bay Area. She owns the bridal hair and make-up boutique, Belle of the Ball, located in Santa Rosa and has previously owned a high-end skin care and waxing boutique, Flourish Skin and Wax located in the Marina District of San Francisco.
Caelie's dedication to her craft continues to grow as she consistently commits to learning. Aside from her education, she has taken and continues to take classes focusing on hair design, make up, anti-aging and cellular code. She has also taken on the role of teacher and has shared her knowledge with others. After studying with well known make up teams in San Francisco and Hollywood, Caelie has even dabbed into doing make-up artistry for television. (For a full resume, please see the drop down menu below).
Caelie's driving passion is to help women of all backgrounds and ages to feel their most confident selves by helping them to look younger and have beautiful skin, eyebrows and make-up. Watching clients transform from feeling good on the outside, which in turn makes them feel good on the inside, is the most rewarding aspect of her career.
She has dedicated her trade and skills to a loyal clientele and continues to expand as she shares her wealth of knowledge with women. Her mission is to continue to provide the most
advanced treatments, quality services, best products and for an affordable price.
In Caelie's free time, she enjoys traveling and yoga. She also loves spending time with family, friends and has a soft spot for pets and kids.
Click to see Caelie's full resume experience »
Caelie Steele Full Resumé
Make Up Courses:
Jane Iradale, the Skin Care Makeup, Pleasanton, CA, 2015
Bridal Makeup, Mac Pro San Francisco, 2010
Air Brush Makeup, Mac Pro Team West Hollywood, June 2009
High Definition/Makeup Up Close, Mac Pro Team, October, 2009
Makeup Artist Studio, Film, Fashion, Photography, Air Brushing, Bridal. Richmond, VA 2008
Camouflage Makeup, Krylon, San Francisco 2007
Custom Blended Makeup, Advanced Institute of Esthetics, Dublin 2006 & 2007
Art of Bridal Makeup, JS Makeup Artistry, Sonoma County 2005 & 2006
Bridal Makeup with Chris Scott, the Makeup Gourmet, San Francisco 2006
Makeup As Art, Mac Pro, San Francisco 2006
Hollywood Tips & Tricks, Westmore Academy, San Francisco 2006
Airbrushing Techniques, Westmore Academy, San Francisco 2006
Hollywood Makeup, Cinema Secrets, San Francisco 2006
Airbrushing Makeup, Kett Cosmetics, San Francisco 2006
Hair Design Courses:
Up Do & Special Event Hair, Current Trends, Briana F., Gina Michelle Hair Studio, 2015
Up Do & Special Event Hair Design, Briana F., 4th St. Hair Studio, March 2011
Up Do & Special Event Hair, Amber O., Kelly Klein Hair Design, 2010
Up Do & Special Event Hair Design, Jessi J., The Loft Salon March 2009
Bridal Hair & Special Event Hair Design, Westmore Academy, Burbank 2007
Special Event Hair with Jessi J. of Dolce Vita Salon, Santa Rosa 2007
Up Do Hair with Molly O., Santa Rosa 2007
Up Do Hair Styling with Kari T., Bella Nova Salon, Windsor 2006
Bridal & Natural Beauty Makeup Course, 2 days taught by Caelie Steele:
Seattle, WA November 2008
Santa Rosa, CA March 2009
Seattle, WA March 2009
Marina Del Rey, CA April 2009
Santa Rosa, CA April 2011
Santa Rosa, CA May 2015
Makeup One Day Intensives Taught:
Fall Trends, Walnut Creek, CA September, 2009
Professional Makeup Tips & Tricks, Walnut Creek, CA September, 2009
Camouflage Makeup, Walnut Creek, CA November, 2009
Professional Development and Networking:
Face and Body Industry Trade Show, San Francisco 2004, 2006 & 2007, 2009, 2011, 2013
Industry Trade Show, Las Vegas 2004
Yonka from Paris Courses:
Continuing education on Cellular Code, Santa Clara, CA May 2015
Continuing education for anti aging facials, San Francisco, CA January & March 2015
Iconic Facials and Product Knowledge, Los Angeles, CA March 2014
Cosmedix Skin Care Courses:
Continuing education San Francisco, October 2012, March 2013, June 2014
Face and Body Trade show continuing education in San Jose, CA 2010, 2012, 2014, 2015
Events:
Makeup & Hair for Special Events and Weddings
Provides make-up and hair services for brides and their bridal parties on their wedding days. Trials also included.
Makeup and Hair for a pharmaceutical television commercial March 2011
Makeup for Print advertisement Bank of the West, Sonoma County July 2015
Television:
Platinum Weddings, WE Network, 2006